RNB FRIDAYS LIVE 
REVEAL ALL SHOW SET TIMES
FINAL TICKETS ON SALE NOW
The countdown is on for Australia's biggest RNB party – RNB Fridays Live. With less than a month until the event of the year kicks off in Sydney, Frontier Touring, Illusive Presents and The Hit Network are thrilled to finally reveal the highly anticipated set times for all shows. *AIRHORN*
 
RNB Fridays Live 2017 will bring state of the art production and stage design making this concert series a glorious 6-hour certified concert spectacular! This is your ONLY chance in Sydney, Perth, Adelaide, Melbourne and Brisbane to see all these massive acts perform live on one stage – this line up is 100% exclusive to RNB Fridays Live 2017 – do not miss out!
 
Limited tickets remain – starting from only $99.90 with Gold and Premium options available. With second shows added in Sydney and Melbourne due to overwhelming demand and extra Premium and Gold tickets opened in Perth this will be fans last chance to score tickets to the biggest party of 2017; make sure you're a part of it!
 
Leading the charge for RNB Fridays Live 2017 is dancehall aficionado Sean Paul and his full live band. The blend of Paul's distinctive voice, hypnotic rhythms and first class production in tracks 'Get Busy', 'Temperature' and latest #1 hit 'Rockabye' will keep your hips shaking long after his set finishes.
 
British superstar Craig David and his DJ house party extravaganza Craig David Presents TS5, will be live in Oz in less than a month! Responsible for some of the biggest RNB jams of the '90's; '7Days', 'Walking Away' and 'What's Your Flava' it's a night not to be missed!
 
It's not long until the essence of chivalry, NE-YO, lands Down Under. One of the most sophisticated and sort-after songwriters in the industry NE-YO will treat audiences to sexy and smooth tunes like 'So Sick', 'Let Me Love You' and recent jam 'Another Love Song'. Equipped with his live band completely exclusive to RNB Fridays Live, best start practicing your moves!
 
Fresh off hosting The Voice Australia, RNB royalty Kelly Rowland returns to Oz and is ready to thrill audiences with her bold and sexy jams 'Like This', 'Work' and international top-ten hit 'Stole'.
 
Boys assemble! Kelis will be landing in less than a month; ready to wow fans with her sizzling and sassy anthems 'Bossy', 'Trick Me' and Grammy-nominated mega hit 'Milkshake'.
 
Rounding out the line-up and ready to get the party pumping are En Vogue, Mario, Christina Milian, Monifah and Ruff Endz. Australia's #1 RNB DJ, DJ Horizon and special host and performer Fatman Scoop will keep the vibes at an all-time high entertaining in between these massive live performances.  
 
To tide you over until the party starts next month, listen to this epic line-up in playlist form here.
For all event information, head to RNB Fridays Live website or Facebook page.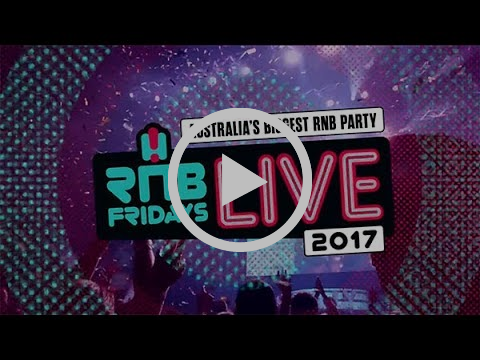 VIDEO: Introducing the RNB Fridays Live 2017 line-up 
RNB FRIDAYS LIVE 2017
OCTOBER 2017
Presented by
Illusive Presents, Frontier Touring & The Hit Network
#RNBFridaysLive
Sean Paul • Craig David presents TS5 • NE-YO
Kelly Rowland •  Kelis
En Vogue • Mario • Christina Milian
Monifah • Ruff Endz • DJ Horizon
Hosted by Fatman Scoop
TICKETS ON SALE NOW & SELLING FAST
ALL SHOWS ALL AGES
Thursday 12 October


Qudos Bank Arena | Sydney, NSW | All Ages SELLING FAST 
ticketek.com.au | Ph: 13 28 49
Friday 13 October
Qudos Bank Arena | Sydney, NSW | All Ages SOLD OUT
ticketek.com.au | Ph: 13 28 49

Saturday 14 October
nib Stadium | Perth, WA | All Ages SELLING FAST
ticketmaster.com.au | Ph: 13 61 00

Sunday 15 October
Entertainment Centre Arena | Adelaide, SA | All Ages FINAL TICKETS       
ticketek.com.au | Ph: 13 28 49

Thursday 19 October
Hisense Arena | Melbourne, VIC | All Ages  FINAL TICKETS
ticketek.com.au | Ph: 13 28 49
Friday 20 October
Hisense Arena | Melbourne, VIC | All Ages  SOLD OUT
ticketek.com.au | Ph: 13 28 49

Saturday 21 October
Brisbane Showgrounds | Brisbane, QLD | All Ages SOLD OUT
moshtix.com.au